Vince's Marketplace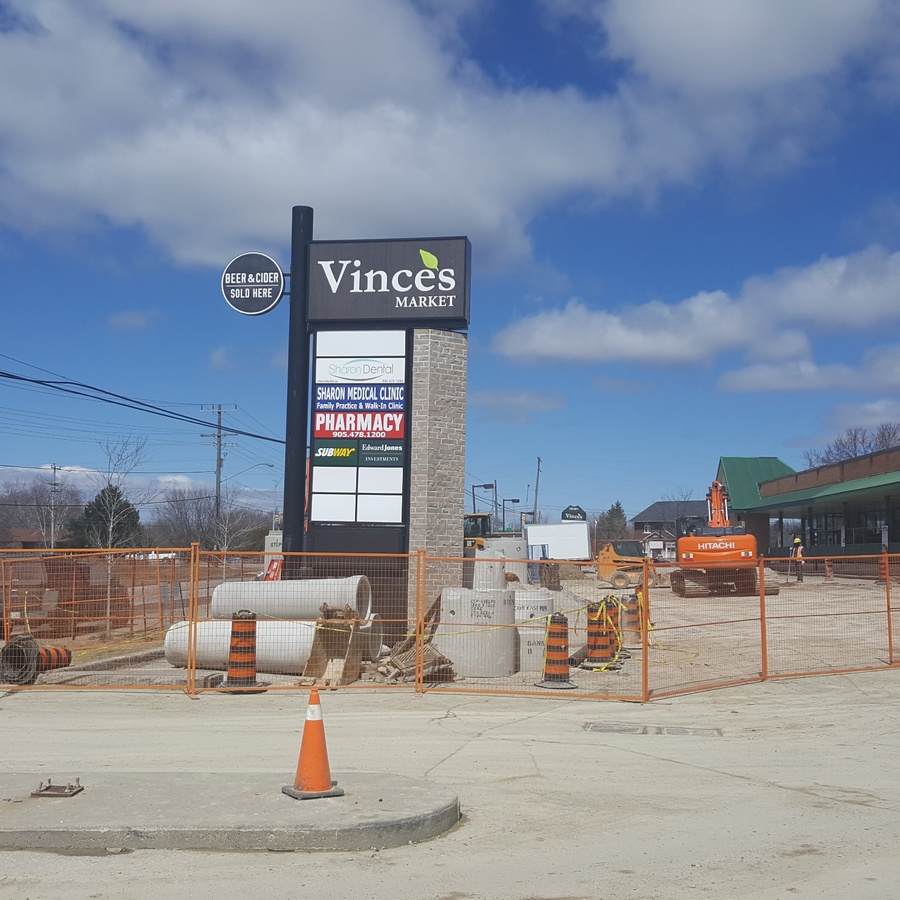 Vince's Marketplace is a new strip retail expansion available in the hamlet of Sharon in East Gwillimbury (19101 Leslie Street at Mount Albert Road/Farr Avenue, just north of Green Lane) in an established retail site anchored by fine-grocer Vince's Market (the only grocery store serving this area – 14,684 square feet). The centre was redeveloped during 2019 and in 2020, the Vince's Market fine grocer that anchored the center was relocated to a new, larger location on the site. There is tremendous housing growth in the immediate area with an existing market of 32,200 people with an average household income of $121,175. A new retirement residence is currently under construction across the street from the site. The site pre-expansion included Subway, Edward Jones, Sharon Dental, and Sharon Medical & Pharmacy. Upon completion, the site will measure about 39,000 square feet.
New tenants to open along side Vince's Market over the coming months will include Sharon House Tap & Kitchen (an upscaled bistro), Pizza Hut Express, Queen's Nails, Taboo Hair Salon, Code Ninjas, and Eh to Zed Preschool Daycare.
There is one unit of 1,785 square feet which is available immediately and which would be suitable for any use that would fulfil a daily need for the residents. Examples could be: pet-related food or services, optical including optician, fitness/personal training or financial.
---
---
Other available listings from Megan McGowan, Ray Spiteri and S&H Realty Corporation Brokerage…
Looking for two corporate locations for the 2020-21 year, each measuring 900-1200 sf in strip plazas easily accessible.
St. Louis Bar and Grill require 2,200 – 3,000 s.f. with a patio and St. Louis Express require 1,000 – 1,200 s.f.
Have a property you would like to list with us?
Our consultants are ready to help you with your project needs; whether you are looking for space or have space to offer, we can help match you with the right tenant and location for business success.